BSC Body Science Pack
or make 4 interest-free payments of $16.24 AUD fortnightly with
More info
---
---
BSC BODY SCIENCE PACK
PRE ULTRA

A powerful pre-workout engineered for maximum human performance. Scientifically formulated to support explosive energy and drive, giving you the intensity, strength & focus to smash through any plateau – mental and physical.
The advanced nutrients in PRE ULTRA combine to help enhance physical performance as well as mental focus, determination and drive. With PRE ULTRA you can work out harder and for longer. The synergistic mind-body benefits help support motivation, intensity and energy so you can push through both physical resistance and mental blocks to reach and exceed your goals.
PERFORMANCE MATRIX – STRENGTH, POWER & PUMP
PRE ULTRA contains a performance matrix of specialty ingredients to boost strength, power and pump. We've included a massive research-backed 6g of Citrulline to increase nitric oxide production for that coveted pump and fight fatigue for muscular endurance. Teamed with L-Arginine and NO-regulator Agmatine Sulphate, you've got a powerful nitric oxide boosting combo to impact vasodilation, protein synthesis rates and nutrient delivery to muscles.
These potent potent amino acid sit alongside Beta Alanine which works to raise your muscle carnosine levels, buffering acid build up for enhanced muscular endurance, exercise capacity and performance. Then we've added Glycerol Monostearate, which can prevent dehydration during exercise, improve exercise performance, and increase muscular pumps during physical activity. It also draws water into the muscles for a fuller, denser muscular physical appearance. Meanwhile L-Glycine is involved in the manufacture of energy and creatine in the body and aids in the building of body mass as a result.
NOOTROPIC MATRIX – FOCUS & ENERGY
The mind will give in 1000 times before the body ever does.
That's why we've combined high performance ingredients with an advanced combination of nootropics, working synergistically to provide the focus and mental clarity needed to take your workout to the next level. A full serve packs an energy-boosting 300mg of Caffeine, a powerful stimulant well-established to improve physical strength and endurance during exercise and performance. For the mind it offers up increased mental alertness and focus, improved cognitive performance and mood enhancing properties to help you power through the most punishing workouts. The pleasure and the pain!
Theanine is used to improve cognitive performance and sustained attention, and reduce mental fatigue, especially when combined with caffeine. A nootropic that has become popular with elite athletes competing in high stress, performance-based sports, Theanine can improve reaction times and reduce feelings of tiredness, stress and anxiety. Adding to the matrix is 100mg Ashwaganda (Withania) and 100mg Rhodiola. Used to improve cognitive function and increase resistance to stress, studies suggest Ashwaganda may also improve muscle strength and size, enhance recovery, and increase natural testosterone in men. Rhodiola Rosea is an herbal adaptogen that may strengthen psychological / mental and physical stress resistance —increasing energy, stamina, strength and mental capacity.
ABSORPTION ENHANCER
To get the most from this powerful formula, there's 10mg of Black Pepper to ensure you reap all the benefits. Sometimes referred to as "bioenhancement", black pepper has an innate ability to increase to level of absorption of nutrients within your body.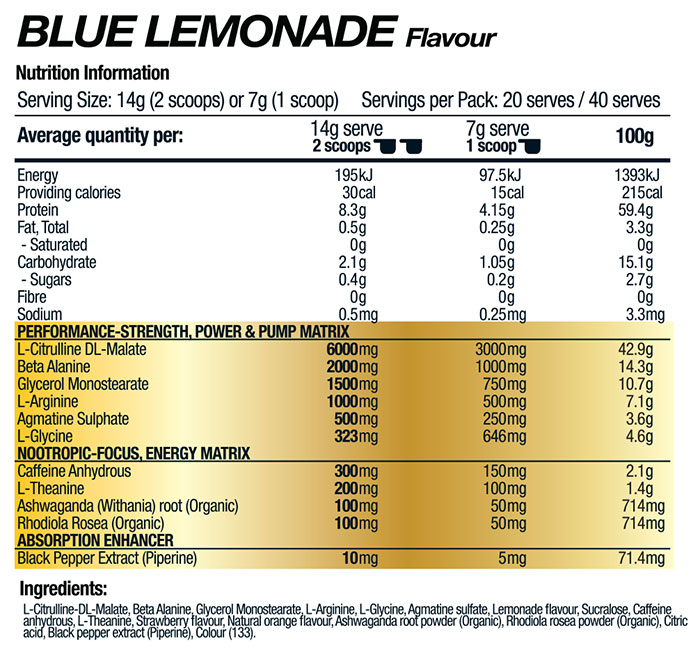 TX100 GREEN TEA
For the first time probiotics meets green tea in an advanced weight loss system. All natural GreenTea TX100 is a delicious tasting, 7 calorie, convenient and easy to use sachet. 
The health and weight loss benefits associated with the regular consumption of green tea are well-documented and now Body Science would like to introduce you to the latest in product development - our new GREENTEA TX100. 
Not only does this natural formulation contain the antioxidant content of more than 100 cups of green tea daily, but it is also the first green tea formulation to incorporate probiotics, the powerful microorganisms that help to keep the digestive tract healthy.  
There is a strong relationship between our gut health and the absorption of essential nutrients from the food we eat on a daily basis. A single serve of Body Science Green Tea TX100 contains more than 6 billion good bacteria courtesy of the probiotics Lactobacillus acidophilus or Lactobacillus plantarum. Lactobacillus is widely used to maintain healthy digestive function and support immunity.
Green tea is a natural potent source of polyphenols, which possess outstanding anti-oxidant properties, helping to protect cells against free radial mediated damage.  And surprisingly, the antioxidant content of Body Science GREENTEA TX100 boasts an ORAC value of 84,000, far surpassing that of any fruit and vegetable, thanks to a specialised processing technique that supports high level extraction of these active molecules. 
The link between the regular consumption of green tea and weight control is of significant interest to researchers. It appears that the regular consumption of green tea is linked to lower body weights and lower levels of abdominal fat thanks to both the caffeine and antioxidant content of green tea. Green tea has also been shown to enhance fat burning, increase the bodies energy expenditure and boost metabolism. 
Not only can green tea help weight control, but as a natural stimulant and source of caffeine, it can also help maintain alertness, improve mood and vitality.  L-Theanine, a key amino acid found in green tea, is also linked to a range of cognitive benefits including increased energy and improvements in concentration.  Body Science GREENTEA TX100 provides 100mg of caffeine per daily dose. 
Most importantly, Body Science GREENTEA TX100 is a natural formation, with no artificial ingredients, only 7 calories per serve and sweetness achieved via natural plant based sweeteners. Plus, there are 4 refreshing fruit flavours to choice from. 
Body Science GREENTEA TX100 has been designed to aid hydration, performance and gut health whilst optimising immune function and fat loss. With minimal calories and a number of potential health benefits, Body Science GREENTEA TX100 compliments any training, hydration and health regime with a suggested serve of 2 x 3g sachets per day.